Statesville Estate Planning Attorney
Having a documented legal plan to follow in case something happens to you in the future is essential. While thinking about your future can be a daunting process, creating an estate plan can help bring you and your loved ones some peace of mind. If you would like to create an estate plan here in Statesville, our team of lawyers at Lassiter & Lassiter is prepared to help you form one that fits your unique needs and requests.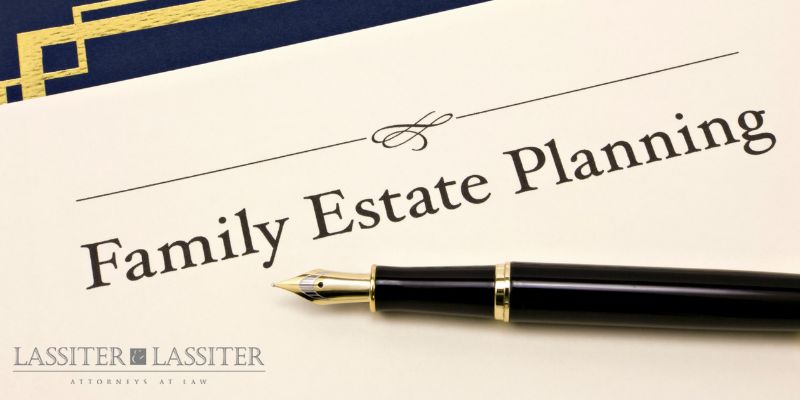 Expert Statesville Estate Planning Attorneys
Since being established in 1970, our firm has been dedicated to assisting North Carolina clients with their legal needs for decades. Our team specializes in a wide range of legal practice areas, including estate planning and administration, and is here to provide you with high-quality, compassionate assistance for whatever you may need. Whether you need to create a simple will or want to form a thorough estate plan, our attorneys at Lassiter & Lassiter can work with you to create the perfect plan for your situation.
What Is Estate Planning?
Estate planning is the process of creating a plan for your future that details how you would like your property and assets distributed and cared for. Everyone has an estate, whether you own just a few things that are important to you or a multitude of valued assets. Because of this, it is vital to have a plan in place for when you pass away.
In your estate plan, you can detail:
How you want your assets divided.
Any personal wishes for your funeral, family, or assets.
Guardianship designations for your children.
Who can have your power of attorney.
Creating an estate plan can not only help you feel more comfortable about your future, but it can also make the probate and grieving processes easier on your loved ones when you are gone.
What Goes Into an Estate Plan?
While every estate plan is different depending on the unique circumstances of the individual who creates it, there are several aspects that are included in most estate plans:
A Last Will and Testament or a Trust
Durable Power of Attorney
Healthcare Power of Attorney
Beneficiary Designations (if not included in the will)
Guardianship Designations (if not included in the will)
How Can an Estate Planning Lawyer Help?
When you are making legal plans for your future, it is best to work with a professional who can assist you properly throughout the entire process. By working with us at Lassiter & Lassiter, we can help you plan in a variety of ways.
Help You Fill Out All Required Documents
Your estate plan will most likely include multiple important documents that state your personal wishes and intent for when you pass away. By working with an experienced attorney, you can trust that we will help you find and fill out all necessary documents for your plan and ensure that they detail your personal wishes properly. Our team can also work to make sure each part of your plan is created legally so that there are no potential issues in the future.
Provide You With Advice When Forming Your Plan
Creating an estate plan that makes you feel comfortable can be difficult. That is why our team can help you through the estate planning process by offering some of our expert legal advice. Determining how to divide assets, who to give them to, and whether you want a will or trust can all be difficult decisions. If you work with our team, we can evaluate your situation and help you decide the best course of action for both you and your loved ones.
Safeguard Your Plan Until It Is Needed
Your estate plan is one of the most important documents you can create. Because of this, you will want to make sure that it is kept safely until it is finally needed. If you work with us at Lassiter & Lassiter, we can not only help you create your estate plan, but we can safeguard it until it is time for the administration process to take place as well.
FAQs About Statesville, NC Estate Planning Law
What Is the Difference Between a Will and an Estate Plan?
A will is a legal document created by an individual detailing their wishes for when they pass. An estate plan, however, is a plan that can include multiple important documents, such as a will and powers of attorney. An estate plan also outlines other important information and requests of the creator.
What Happens If I Die Without an Estate Plan in North Carolina?
If you pass away without any form of documented plan, such as a will or an estate plan, you will be declared to have died "intestate." Your property will then be handed over to the state. The court will take over the probate process and distribute assets according to default inheritance laws.
Can I Update an Estate Plan?
Yes. If you created an estate plan with an attorney, you can contact them to make modifications to your plan to suit your changed needs. They will know the proper steps to take and procedures to follow. The only things you may not be able to change are irrevocable trusts that have been finalized.
Do I Need an Estate Planning Lawyer in North Carolina?
If you wish to form an estate plan in North Carolina, it is best to work with an experienced attorney who can help you create a plan that works best for you. An attorney can help you address all important personal matters, ensure all legal aspects are followed, and safeguard your plan as needed, ultimately making the process much easier on you.
Do Not Wait to Create Your Estate Plan in Statesville
Our team at Lassiter & Lassiter is committed to helping each of our clients create individualized legal plans for their futures. We know that estate planning can be emotional and oftentimes overwhelming. This is why we work to provide compassionate assistance throughout the process. If you have decided to create an estate plan here in Statesville, NC, and are looking for legal assistance you can trust, do not wait to see how our team can help. For more information on our firm and the different services we offer, contact us today to learn more.