Mooresville Divorce Attorney
Marriage is an exciting time. It is another step in a journey with someone that you hope to share your life with. Unfortunately, the magic doesn't always last. Divorce rates across the country continue to rise. These moments can be challenging. You may have shared property together, you may have children together, and you likely have a collection of possessions that need to be evaluated and divided. With so much to consider in any divorce, coupled with the emotional stress of the process, hiring the right Mooresville divorce lawyer is something that should be high on your priority list.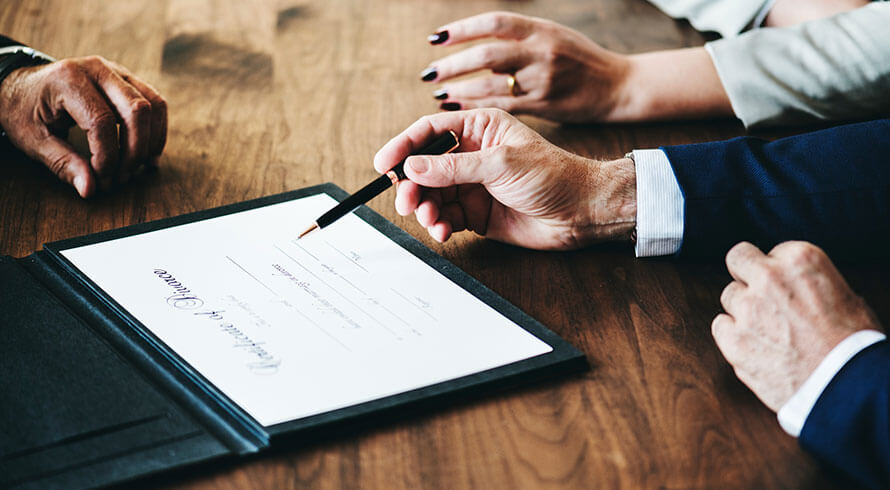 Marriage in North Carolina
As with every state in the US, North Carolina has a certain set of requirements that two individuals must meet to legally marry. Some of these requirements are:
If one or both people are between the ages of 14 or 15 and are expecting a child, the marriage must be approved by a district judge.
If either person is 16 or 17, they must obtain written approval from a parent or guardian.
People 18 or older do not need prior approval.
Marriages within a family are prohibited.This means first cousins, double first cousins, and other familial relationships may not marry.
Neither person may be already in a legal marriage. Divorce documents from the previous marriage may be necessary to proceed.
Once you and another person have established your eligibility to marry, it is important to obtain the marriage license before the wedding. There are no requirements for waiting periods during the application, but you must become legally married within 60 days of issuance.
Unlike some other states, North Carolina has no resident requirement nor any county requirement to obtain a marriage license. That means you can apply for a marriage license in any county while holding the actual wedding anywhere in the state.
Divorce in North Carolina
Married couples have two ways of legally dissolving the marriage: separation or divorce. Within both of these, there are many layers. Using an expert attorney is an important step in the process to make sure that you have filed correctly and are on the right path for your needs.
Separation
Separation requires very little, legally, to establish. Simply put, if two spouses live in separate homes and at least one of the spouses sees this split as permanent, then by North Carolina law, you are legally separated. You could not say you are separated and continue living in the same home ¬ that is not protected by law.
When a couple separates, they can create a separation agreement in which they both agree to certain terms regarding financial responsibilities, who will live in the marital home, and even where any children may live. In general, the agreement should include details of the separation, any spousal support, and division of property. If there are any children, it will consider custody and support. Although this agreement is not legally necessary, it can help in any potential legal issues that may arise later or if the separation becomes a divorce. For couples who choose to go this route, the agreement must be signed by both parties and notarized.
If a couple wishes to seek a court-ordered separation, then they will file for a divorce from bed and board. This is not a divorce that legally breaks up the marriage. It is simply the name given to separations that may require legal backing for various reasons. A couple may use this option if any of the following elements are true about either spouse:
They abandon their family
They force the other spouse out of the home with malice
They endanger the life of the other spouse through cruel actions
They make life unbearable for the other spouse through shame, humiliation, or other indignities, including alcoholism or substance abuse
They commit adultery
In these cases, there is an at-fault reason why the separation must move forward. Because there is blame, both spouses may not agree on the separation, and therefore a court must intervene. With this filing, the court will settle all disputable matters such as property division, spousal support, and any child custody and support arrangements.
In both forms of separation, there is a one-year waiting period before the couple may file for an absolute divorce, which can dissolve the marriage.
Divorce
To file for divorce in North Carolina, you will file for an absolute divorce. Toqualify for this, the couple must be legally separated for a year and a day. That means they must meet the requirements of separation outlined above. However, there is a residence requirement to file for divorce in that you or your spouse must have lived in the state for at least six months.
Both spouses do not have to agree, or even acknowledge, the divorce proceedings. Only one spouse needs to submit the actual filing and the other spouse only needs to have received a proper legal notice for the divorce litigation to proceed.
After you have filed for a divorce and arranged for the other spouse to be notified through a process server or police officer, there are a few critical steps that must happen:
File any paperwork for division of property
File any paperwork that seeks spousal support
After the divorce is final, if neither of these has been requested, then by law, both spouses forever lose their opportunity to them.
No matter if you are seeking separation or divorce, it is important that you get legal help from a family law attorney. Knowing the right time to file, the right paperwork, and the legal entitlements you have in the divorce process will be critical in the challenging road to dissolving a marriage.
Child Custody and Child Support
One of the most important aspects of separation or divorce is to ensure that the best interests of any children involved are a priority. Hiring a divorce attorney is important to ensure that they have a voice in the process.
Unlike property division and spousal support, child custody and child support can be filed at anytime until the child reaches the age of 18. Custody can be filed by parents or extended family if they feel the parents are unfit for the child. However, the burden of proof isthe responsibility of the person who files.
Legal vs. Physical Custody
Legal custody of a child means that a parent has the right to be the decision maker, while physical custody is the right to have the child in that parent or guardian's physical care. In both situations, the responsibilities can be shared or assigned to one parent. Again, whichever is in the best interest of the child.
Sole vs. Joint Custody
With sole custody, the child will live full-time with one parent, and/or one parent will make all of the important decisions. However, it does not negate any visitation with the other parent. In joint custody,the child will split time with both parents, and all decision-making will be done jointly between both parents in the best interest of the child. In this situation, if parents are unable to jointly decide, a court may need to become the decision maker.
FAQs About Mooresville, NC Divorce Law
How Much Does a Divorce Lawyer Cost?
Average fees for a divorce lawyer will range from $230 – $280 per hour, with total fees averaging between $9,000 and $11,000. Each case and client are unique, so costs can vary. But the cost of a trusted expert on your side could save you time and money later.
How Long Does It Take to Get a Divorce?
From filing to dissolution is approximately 45 – 90 days. While this may seem quick compared to other states, there is a one-year separation requirement. There is also a 30-day waiting period from the time a spouse is served. Other factors that could speed up or delay the process include negotiations and mitigations. The longer it takes spouses to come to agreements, the longer the process takes.
How Is Custody Decided?
Custody is decided primarily by what is in the best interest of the child. This includes factors such as criminal backgrounds, finances, stability, substance abuse, etc. A court's responsibility is the welfare of the child involved and will therefore make the decision that is best for the child.
What Should a Woman Ask for in a Divorce Settlement?
No matter the gender, a spouse should make sure that the divorce has a level of equity. That means looking at insurance, spousal support, share of debt, and even retirement funds that they may be entitled to later. Each couple is different, and the success of each spouse looks different. With the right attorney, you can fight for the rights you feel entitled to.
Contact a Mooresville Divorce Lawyer
If you are seeking a separation, divorce, or are involved in a child custody case, it is important to have legal representation that will have your best interests in mind. The process can be stressful, so having the right team can help save you time and money. Trusting the family law experts at Lassiter & Lassiter, Attorneys at Law is the right decision. Contact our Mooresville office today and let us help you through this challenging time.