Mooresville Estate Planning Attorney
With extensive knowledge in the areas of estate planning, probate, estate administration, trusts, and wills, the attorneys at Lassiter & Lassiter are dedicated to helping families in Mooresville Estate Planning Lawyer and throughout North Carolina secure their futures through estate planning. Our attorneys are experienced in helping Mooresville, NC clients create and execute wills, trust agreements, and other estate planning documents, as well as assisting clients with probate and estate administration.
From transferring assets to creating a comprehensive estate plan, we can help you protect your property and plan for the future. We understand that estate planning is a personal and sensitive matter, and we are committed to providing personalized attention and excellent service to our clients.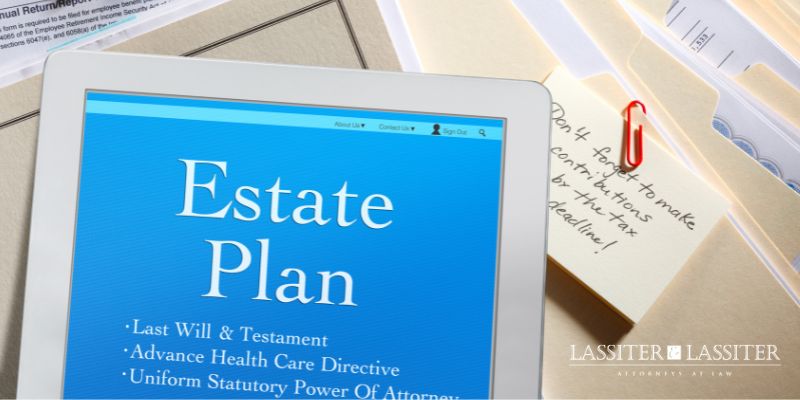 The Basics: North Carolina Estate Planning
Estate planning in North Carolina involves creating a plan for the management and distribution of your assets and property after you pass away. Estate planning can also include planning for incapacity, including the appointment of a healthcare proxy and the creation of advance directives.
Some of the key elements of an estate plan in North Carolina may include:
A will. A will is a legal document that allows you to control how your assets and property will be distributed after your death. In your will, you can specify how you want your assets and property to be distributed, and you can also name guardians for any minor children. If you do not have a valid will at the time of your death, your assets are distributed according to North Carolina's intestacy laws, which may not align with your wishes.
Trusts. A trust is a legal instrument used in estate planning that allows you to transfer assets to a trustee, who holds and manages the assets for the benefit of one or more beneficiaries.
Power of attorney. A power of attorney is a legal document that allows you to designate someone to act on your behalf in financial and legal matters. A power of attorney can be limited or general, depending on the scope of the authority you want to give to the designated person. With a power of attorney, you can authorize someone to manage your finances, pay bills, or make other financial decisions on your behalf. You can also give the person you designate the power to make medical decisions for you if you become incapacitated.
Healthcare power of attorney. A healthcare power of attorney is a legal document that allows you to designate someone to make healthcare decisions for you if you become incapacitated and are unable to make those decisions for yourself.
Living will. In North Carolina, a living will is a legal document that allows you to specify your wishes regarding medical treatment if you become unable to communicate those wishes for yourself. A living will is also known as an advance directive or a healthcare directive.
Beneficiary designations. A beneficiary designation is a legal document that allows you to designate who will receive certain assets when you pass away. Beneficiary designations are commonly used for life insurance policies, retirement accounts, and other financial accounts.
In North Carolina, estate planning can involve both state and federal laws, and the laws can be complex. Therefore, it's important to work with an experienced estate planning attorney to help ensure your wishes are properly documented and that your assets are distributed according to your wishes.
FAQs About Mooresville, NC Estate Administration Law
At What Age Do Most People Do Estate Planning?
Estate planning is an important process for individuals to plan for the distribution of their assets and the management of their affairs after their death or in the event of their incapacity. While there is no specific age at which estate planning should be done, it is generally recommended that individuals begin the process in their 30s or 40s, or as soon as they start accumulating significant assets or have dependents.
How Much Does an Estate Lawyer Cost in NC?
Most estate lawyers in North Carolina charge either a flat fee or an hourly rate for their services. According to some online legal resources, the average cost for estate planning services in North Carolina can range from $1,000 to $3,000 or more, depending on the complexity of the estate plan. This may include the drafting of documents such as wills, trusts, powers of attorney, and healthcare directives, as well as advising on tax and other legal issues.
What Percentage Does a Lawyer Get for Settling an Estate in NC?
In North Carolina, the fees charged by an attorney for settling an estate are determined by the state's statutory fee schedule. Under this schedule, an attorney is entitled to a percentage of the estate's value, as follows:
5% of the first $5,000 of the estate's value,
4% of the next $5,000 of the estate's value,
3% of the next $90,000 of the estate's value,
2.5% of the next $400,000 of the estate's value,
2% of the value of the estate over $500,000.
Who Is the Best Person to Manage a Trust?
The trustee has a fiduciary duty to manage the trust assets and act in the best interests of the beneficiaries of the trust. Some potential options for a trustee include a professional trustee, a family member or friend, or co-trustees. The best person or entity to manage a trust will depend on the individual circumstances and goals of the trust. It is important to carefully consider the options and seek the advice of a legal and financial professional before making a decision.
A Mooresville Estate Planning Attorney Who Can Help You Plan for Your Future
If you are looking for a Mooresville estate planning attorney to help you with your estate planning, count on Lassiter & Lassiter. Our experienced estate planning lawyers understand the complexities of estate planning and are ready to work with you to make sure your wishes are respected and that your estate is properly handled according to your desires. Contact an estate planning attorney at our office and let us help you get the estate planning process started.